---
Maserati Manual MK1
Mistral + 3500 GT Owner's Manual
---
RICH MIXTURE CONTROL - To assist the car in starting, especially during the winter months, it is necessary to
have an additional amount of gasoline and air to overcome the friction of a cold motor and allow it to rotate during this
period of warm up. By using the choke or the rich mixture control, you can allow an extra input of gasoline and air, more
than the normal amount. The extra air is controlled by the same shaft of the rich mixture control point G (fig.21), comes through at H
and is input directly into the motor through the duct I. The duct I is the same which connects the manifold intake depression
to the small piston L and regulates the gasoline control.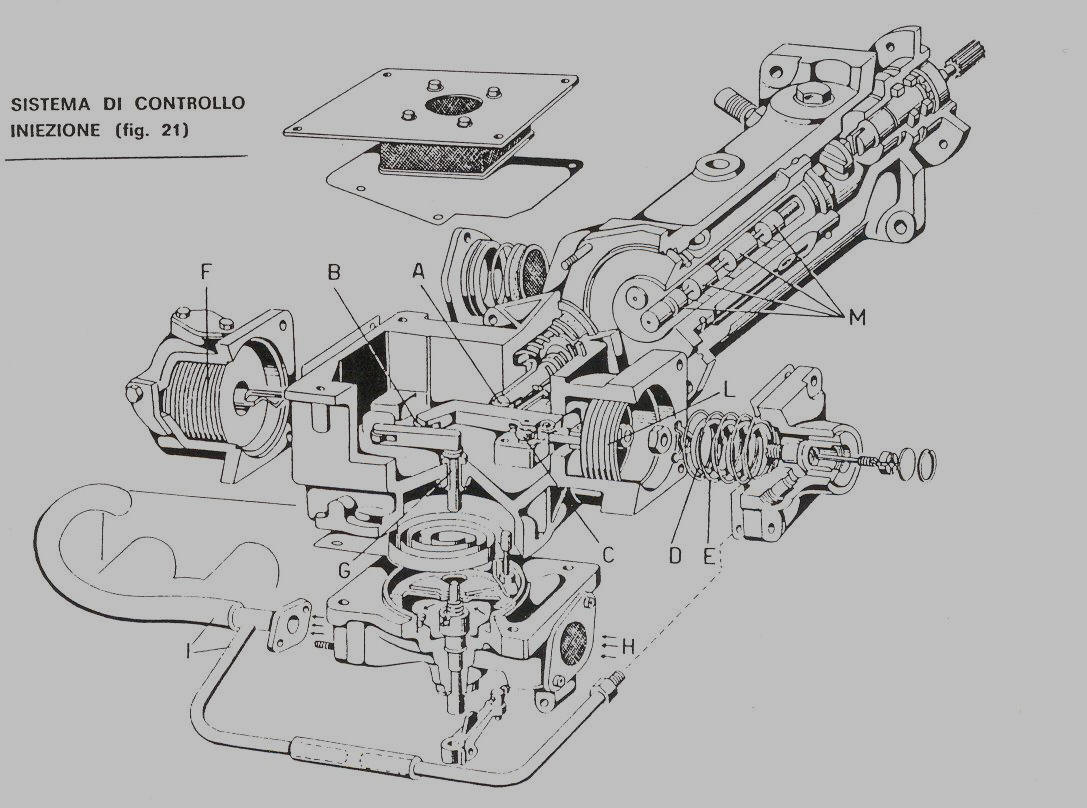 DEPARTURE AND DRIVING
Before The Departure:
Since this is a high performance car, the driver must know the position of all the controls and instruments. Check the water and oil
level to see if you have enough gasoline in the tank. Check that the parking brake has been released.
Starting Up With A Cold Engine
Move the lever of the rich mixture control to the yellow mark. Rotate the key in the ignition to the first release to the right. Wait a few
seconds to allow the fuel pump to fill up the ducts. Then, turn completely the key in the ignition. Keep the car standing still
with the motor running at 1700 rpm for two or three minutes and, in the meantime, progressively release the choke. Afterwards, drive
the car without accelerating too much until the oil has reached a temperature of about 50 or 60 degrees centigrade. To facilitate
the quick increase of the oil temperature, the motor has a heat exchanger. This device has two functions. It allows the oil to warm
up in cold regions by using the warmed water of the radiator. Number 2, it lowers the oil temperature In the warm regions using the
cold water of the radiator.
Page 12
Click here to go to page 13
Click here to go to the table of contents