---
Maserati Manual MK1
Mistral + 3500 GT Owner's Manual
---
PROBLEMS IN THE MOTOR
Smoke is coming out of the exhaust pipes, the motor rumbles, it is not powerful enough. The spark plugs look smoked and
the engine uses up too much gasoline.
(A) Check to see if the fuel pump is off, choke is off (the choke handle on the dashboard should be turned completely to the left)
and that roller E (see figure 44) always keeps in contact with the point on the barometric capsule.

(B) Check the motor idling, if the roller E in figure 44, detaches automatically. In this case, check with a three way and a monometer
(figure 43) that the pressure is not over (102 TO 110 p.s.i) 7 to 7.5 atmospheres. A higher pressure would indicate that Valve A on the fuel
pump (see figure 19) is jammed. Take it apart, clean it and, if necessary, replace it.

(C) Check point B, in the chapter "DEFECTIVE IDLING".

(D) If A, B & C are correct, check the setting of one of the following systems.

(A) Replace the small roller (D) in figure 44, with a larger one, trying progressively larger ones with a variation in the diameter of 0.05mm.
(B) Replace the small roller (E) in figure 44 with an under size roller, trying progressively different rollers with diameter variations of 0.05mm.
(C) Progressively eliminate the extra thickness under the main spring A (See figure 46) progressively.
(D) If there are no extra thicknesses, reduce progressively the thickness of the spring by 0.02mm at a time. (See figure 46A) as an alternative, insert
under the cover R (See figure 45) cardboard rings (0), figure 45 with progressively larger size from 0.2mm to a maximum of 1.5mm.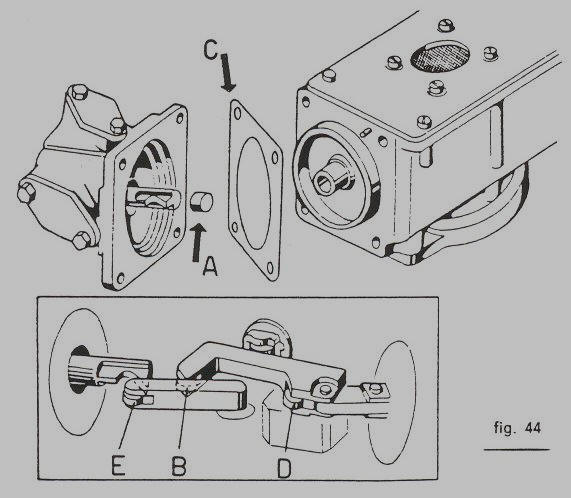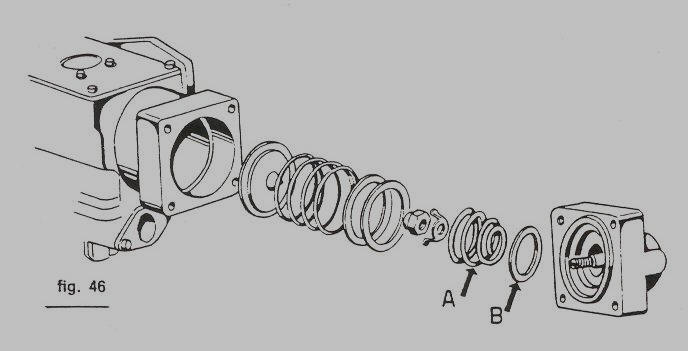 TIMING OF THE INJECTION DISTRIBUTOR
The starting point of the gasoline delivery of the injection distributor can vary in a rotation field of the crank from 15 degrees before the top
dead center, to five degrees after the top dead center, in the initial phase of intake. Unscrew the distributor bolt with a corresponding
eye connection, corresponding to cylinder number 1 (see figure 47A), and check that the beginning of the aperture of the clockwise opening of
the inside rotor coincides with the position of the piston indicated above. The timing can be done with claw-clutch in the distributor
(see figure 47B) and with the reduction gear on the camshaft (see figure 47C).
To help you in the timing, there are two marks which must correspond both on the cam shaft of the distributor and on the grooved
part of the motor (see figure 47D).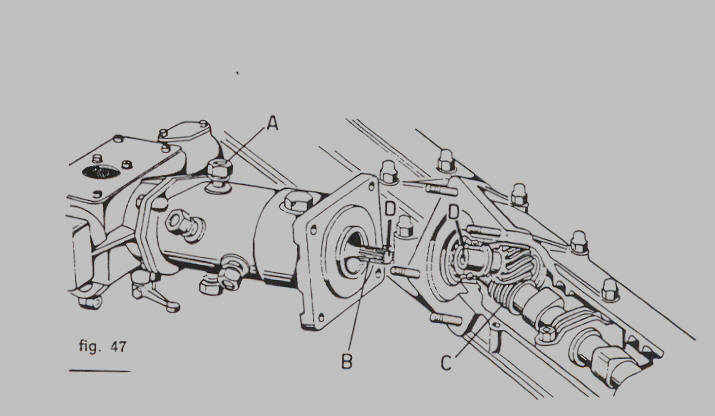 Page 18
Click here to go to the table of contents