LUCAS INJECTION
Lucas MK1 and MK2 fuel / petrol injection
---
Lancia Fulvia
Owner: Paul de Raymond Leclercq

---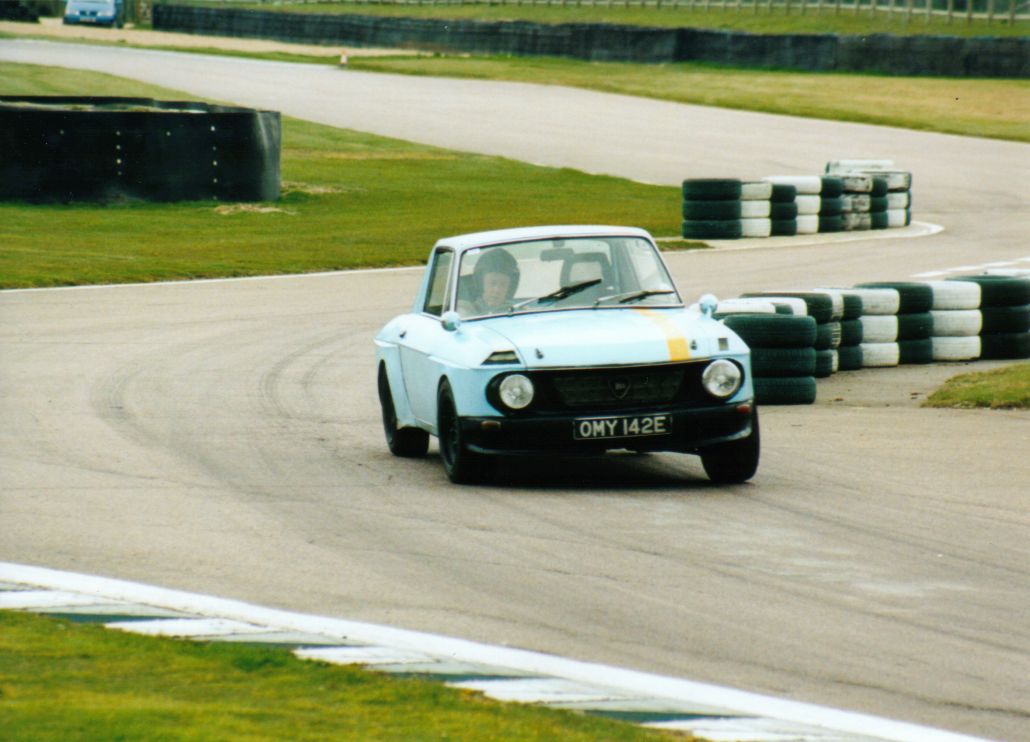 At the recent Castle Combe track day, my car finally made its appearance after what seems to have been an interminable gestation period (seven years).
It is not and never will be, finished.
However, following an all too brief spell on the track due to a faulty condenser and a cracked cylinder block (which was due to my negligence!) many visitors expressed interest in the car. For me, an inveterate fiddler and modifier, this was very satisfying, as I am aware that specials are, to say the least, not nearly as much "the thing" as they were in Julian Jane's day.
Anyway, this piece is neither to be a cri-de-coeur nor a tedious account of every weld or piece of fabrication until the triumphant day when the car "passed its MoT with flying colours" - why do they always say that? (it did actually).
No, apart from a few disconnected jottings, I just wish to express my grateful thanks to the many kind friends who have helped and also to the numerous motor-manufacturers whose designers (unwittingly) contributed parts. These I list at the end.
And now a little about the project
· Thanks to Gerald Batt and Harry's neighbours, the Deadmans, I was able to collect OMY 142E from Harry's premises after his death
The car, for which Harry had paid £60, turned out to be composed roughly of 65% steel
· 25% filler, the balance being mostly oily filth, holes, cobwebs etc.
· After about three months of weekends welding, I had a shell.
· Since the project was not done "aircraft-style" - i.e. drawings first (I can't draw) it developed organically. Examples of this include the purchase of various steel wheelarches, the three different mounting-places for the oil-cooler, two mountings for the injection, three radiators etc.
· Why injection? A number of people asked me this at 'Combe.
Well first of all, I've always admired the Lucas mechanical system both for its success over twenty years of motor racing and for its ingenuity - just three moving parts in the metering unit and two of those running at clearances of .0001"! I
was, of course, aware of the works efforts with the Kugelfischer system, but no-one's ever told me how much power was obtained. There are rumours that such a 1600 came to England but after fifteen years of Lancias I have yet to meet anyone who has seen a VAR 1016 Fulvia, let alone an Iniezione!
Anyway, I was very fortunate to be offered a Lucas 6mm 4-cylinder unit with a Cosworth drive and 4 injectors at a price I could afford, so then I was committed. For those who have not seen the car, the pictures show how the installation is arranged, The metering unit is driven by means of a toothed belt from a modified rev-counter drive.
The idea was to reduce the overall length of the inlet tract, which is especially long and tortuous if the works manifold with 45s or 48s is used. I have plans to shorten the
tract still further. The reason is that a shorter tract will improve top-end power and together with injection, provide much-improved throttle response - never the Fulvia's strong point. Additionally, injection provides superior atomisation of the intake charge - essential with long ports - and thereby additional mechanical "octanes" by virtue of a better burn.
At a recent rolling-road test, the engine delivered 110 b.h.p.(and climbing) at the wheels at 6700 r.p.m. Unburned hydrocarbons were very low - 95 p.p.m. proving the "burn" theory. Incidentally the power output is equivalent to about 145 b.h.p. at the flywheel. I am still using the original Cosworth F2 fuel cam which came with the injection which is hardly suitable, whilst the ignition timing is actually a guess - we didn't touch it during the test session - there wasn't time; neither has the cam timing been addressed.
· More work has to be done on the exhaust system. I have found that Fulvias respond very favourably to attention in this area. This may seem a platitude, but take a look at the dismal exhaust valve-throat area on a standard Fulvia head and I'm sure you'll agree. Another thing: why did Lancia use the 1300 manifold on the 1600? The fact that stainless steel was used is really an admission of failure - I've seen them red-hot! The fact that I have virtually to dismantle the entire front of my car to remove my fabricated 4-into-1 manifold is another admission altogether of course! There's really very little room; back to the (virtual!) drawing-board, I suppose.
As for the rest of the car, the approach has been to make it as solid as possible keeping weight to a feasible minimum; it is still too heavy. Following Peter Gerrish's suggestion in the Fulvia Journal, the sills have a central membrane. Seam welding serves to integrate
the "A" post into the sill structure with further triangulation of the flitches forward and above, that. I have done away with the troublesome boxes by simply removing the rear portion of the sub-frame and mounting it where Nature (and Fessia) intended - in the original place; a lot of work, but weight is saved and rigidity gained. There are solid bushes (from Barry Waterhouse) and my ball-race front spring mounts beautifully executed by Doug Ellis.
· Next? Well, how about a mechanical fuel-pump (always the Lucas bugbear) dry sump, rose-jointed outer front anti-roll bar mounts, alloy brake-disc bells etc? It's nice to dream...
Actually, before Goodwood (next spring), I have to dismantle the car and rebuild the engine, hopefully with the magic head that Peter Ward has been threatening to do for me which he says will (with a proper fuel-cam etc) provide 175 b.h.p. with torque to match. I have to re-think the exhaust manifold, the heat from which causes great suffering to the steering idler box and I also have to polish out the runs in my
paintwork. As I said, it will never be finished.......
SPECIFICATION
Body/Structure
1967 Fulvia Coupe. Sills reinforced with central membrane, all seam-welded. Sub-frame boxes removed, triangular sections rebuilt in 12/16g steel, seam welded. Rear of sub-frame removed. Sub-frame modified to use 2000 rear mounts. Gearbox tunnel removed and replaced with extended SII tunnel, triangulated to scuttle. Centre and rear sub-frame mounts triangulated with square tubing. Front flitch panels triangulated to "A" post. Wheel arches seam-welded to wing tops. New wings and rear panel fabricated from 18g aluminium sheet - riveted in place. Rear quarter lights removed and welded up. New front panel fabricated; front valance replaced with modified Porsche spoiler. Dash panel replaced with tubular structure; steering column lowered.
Engine
82 x 75mm, 1584cc. Block bored & sleeved; flywheel lightened; head gas-flowed; 40mm inlet valves, 35mm exhausts.
c.r. approx 11.5/1. Ex-works rally-profile camshafts(BWE) timing approx 50/70/70/50; lift at TDC: 4.3mm
Lucas mechanical injection Mk II. Bosch electric fuel pumps. Throttle bodies 42mm bore. Exhaust manifold 4-into-1, primaries 39" long, bore 35mm opening to 38mm; pipe after collector 60mm.
Oil and fuel coolers. Approx. 145 b.h.p. @ 6700 r.p.m.
Transmission
Fulvia 1600 sport gearbox 11/39 diff. Extended remote-control with revised lever ratio and shortened gear-lever. Solid rod clutch throw-out.
Suspension
1600 SII coupe suspension with Nylatron bushes. Rubber spring-
to-wishbone mounts replaced with ball races in HD-30 supports and hardened steel plates on spring. SI rear axle, extra (inverted) leaf added to rear springs, solid bushes.
Brakes
AP racing magnesium 4-pot calipers mounted on special adapter plates at front. SI Dunlop rear calipers lined with stainless steel. Pressure limiting valve. master cylinder: SI 18mm bore. Shortened, fly-off handbrake lever.
Wheels
Cromodora 6x14, 185/60-14 tyres (to be replaced with Porsche 7x15 wheels with 195/205/50-15 tyres)
Performance
0-60: 7 secs, top speed: I haven't found out yet!
DONORS
Alfa-Romeo - Radiator and fuse-box (Sud) fuel-guage (Duetto)
Ford - Fuel pump (XR3i) injection (Cosworth FVA)
Jaguar - header tank (XJ6)
Lancia (other than Fulvia) - Alternator, sub-frame parts & mounts, catch tanks, anti-roll bar (2000);oil cooler (Delta HF) silencer (Thema)
FIAT - various brackets, linkages (various),brake limiter (Panda)
TAXI - headlamps
TVR - rear lamps (Tuscan race-car)
Porsche - Spoiler, fuel-pump, washer-pump(911)
Honda - passenger seat runners (Activan)
Rank Xerox - Throttle linkage bearings (10-90 copier)
WORKERS, ADVISORS AND SUPPORTERS
Many thanks to:-
Martin Hall - bodywork fabrication and swearing lessons
Justin Hildreth -"Captain Bracket" - all sorts, notably exhaust manifold, injection installation, fabrication and the handbrake.
Doug Ellis - machining; throttle bodies, suspension mounts, brake mounts.
Barry Waterhouse - solid bushes, cylinder sleeving, flywheel lightening, lining of rear brake cylinders and what Harry would call "Facilities" and advice.
Peter Ward - design of front caliper mounts, advice re injection, concepts and technical theory.
Bob Blurton (BBI)- THE Lucas man - for advice and an entertaining Sunday afternoon.
Gary Crawford - preparation of bodywork, loan of MIG and spraying equipment, lots of good ideas and encouragement.
Dave Tweddle - advice and encouragement in the early days
Paul Collins - for the door handle idea.
Harry Manning - apart from everything else he sold me the car!
SUPPLIERS
BWE - all sorts of things, far too many to list (but see above)
Goodwins - aluminium
George King Metals - aluminium, alloys and steel
Thos Tingley - steel tube
Think Automotive - Aeroquip tube and fittings, gauges
ADA racing - brake calipers
Ken Mills Injection - Lucas parts and overhaul of injectors
Wurth UK - Nuts, washers, rivets, connectors.
GSJ - stainless and standard bolts and nuts
Lucas - fuel system parts
Strand Glass - fibreglass cloth
Cannons MSA - Exhaust tubing paint etc.
Car Paint & Panel - paints
Fay's metals - copper sheet, aluminium

and steel