---
Manifolds and Injectors
---
Alan Smith small block Chevy F-5000 manifold:
Courtesy of Richard Line, Thanks Richard! Richardline@supanet.com

Morand small block Chevy F5000 Manifold (on a 73 McRae GM1)
Courtesy of Paul Hoey, Thanks Paul!







Kinsler small block Chevy F-5000 manifolds:
Factory Chevy Manifolds:
Kinsler/Lucas/Crower big block Chevy CanAm and Off-shore race boat manifold:







Note the size difference between the big block, and small block setup! The F5000 smallblock setup is part
of our "STREET PROJECT"
MacKay big block Chevy
Duggan small block Chevy F-5000 manifold:
(Do you have any good Duggan photos? Please send us some!!)





MacKay small block Chevy F-5000, and assorted other MacKay manifolds: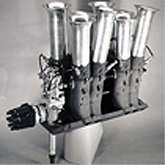 YOU WILL NOT FIND ANOTHER FUEL INJECTION MANIFOLD SUCH AS THIS ONE ANYWHERE ON EARTH
MacKay MAGNESIUM Fuel Injection manifold for a 90-DEGREE CHEVY V6 with 23-degree heads includes LUCAS metering unit.
Custom built for GM development by Ryan Falconer of Ryan Falconer Racing Engines, this manifold is truly one-of-a-kind.

Ford
Down under in Australia and New Zealand there are many road race Lucas injected cars, from F5000 to Ford Falcons and Mustangs!
Below, The Geohegan 70 XY Falcon and 67 Mustang, both Famous Aussie race cars, both fitted with slide Fuel Injection.
The Falcon is a Cleveland engine and the Mustang is a Windsor.
Pictures courtesy of Dale Mathers,Coastline Automotive, New Zealand THANKS DALE!

Cosworth